marouch, los angeles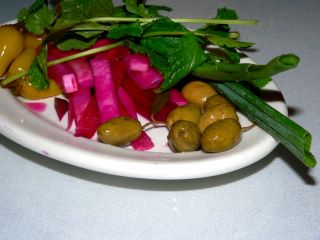 garnishes: pickled beets, olives, green onions, mint and hot peppers
tucked away in a faceless mini mall off santa monica boulevard and edgemont, with too few parking spaces and too many giant suvs, as are most business establishments in la, is marouch. probably the best middle eastern (lebanese-armenian) restaurant i've ever been to. of course i have yet to get myself to saha in san francisco, thus the
probably
part.
we showed up, a ravenous table of nine, at 8:00 pm on a saturday night. we had reservations but didn't need them as the place was about only 25% full. my friend, the picky eater and he who turned me on to this place couldn't believe it. i suppose it was due to the holiday weekend. all of la was eerily abandoned.
the interior is warm and inviting: there's a fountain by the door; the lighting is just dim enough to lend a certain flattering, wrinkle reducing light; the colors are warm; the tablecloths are white. it's a nice space. kinda klassy. spelled with a k, mind you.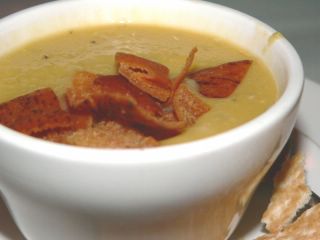 cup of lentil soup ($2.50)
i started with a cup of lentil soup, which was thick and creamy, a bit more like a split pea soup than the thin version you'd find in an indian restaurant. served with bits of fried pita bread. it was good and hearty but paled in comparison to the rest of the meal.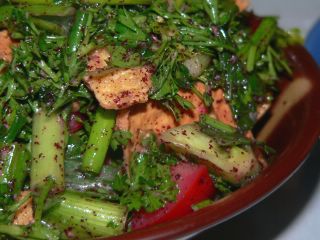 fattoush ($5.00)
upping the ante, next came the fattoush. it was delicious. the dressing was neither too oily nor acidic, hitting a subtle note. there was a good balance of tomatoes, cucumbers, green onions, bell peppers and pita bread chunks. wholly satifying with no ingredient dominating. the pita was toasted and so retained some of its crunch in the salad.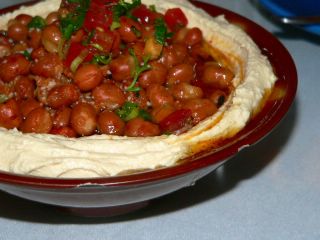 hommos b-tehiny and fool maddamas ($8.95)
tahini and fava beans together in one plate, am i in heaven? these favas are cooked to a meltingly tender consistency and seasoned in lemon juice, garlic and olive oil, served in a nest of the the creamiest, garlic-iest, tastiest tahini. the favas were lightly tossed with some scallion, parsley and bits of tomatoes and had a light yet zesty flavor. the tahini was pure creamy garlic heaven.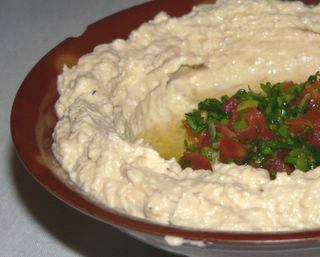 babaghanouge ($ 6.95)
very very creamy and very very smoky. this dish had a nice tart bite from the lemon juice that balanced out the incredibly smoky flavor of the eggplant. served with a dollop of tomato, parsley and olive oil on the top. without a doubt this was the most distinctive and flavorful babaganouge i've ever had. it was my favorite dish of the entire meal.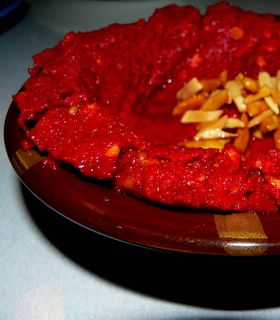 mouhamara ($7.95)
"man, you gotta try this stuff", my friend the picky eater kept repeating, "it's unbelievable". and so i did. and i was not disappointed. for the uninitiated, mouhamara is, according the the marouch menu, "crushed walnuts mixed with hot red pepper paste and olive oil". this does not begin to describe this dish. first off, it is not in the least bit spicy, as you might expect it to be based on the "hot red pepper paste" part. the flavor is more reminiscent of a roasted red pepper paste - smoky, meaty and sweet, with the walnuts giving a nice crunch to the pate. served with a drizzle of olive oil and toasted almonds on the top.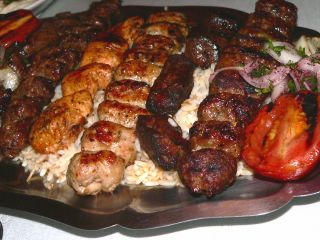 mixed grill ($30.95)
off of the entree menu came this mixed grill for five. it was six skewers of chicken, beef, lamb, cut into giant chunks served over a bed of rice. the meat was reported to be succulent and well flavored but at about five bucks a skewer, the price seemed a bit on the steep side to me.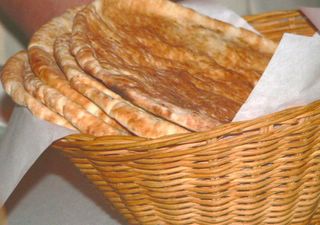 fresh baked pita bread
the meal is served with fresh baked pita bread. it was a little rubbery, like all pita bread that is not steaming hot or toasted, but with a wonderful and lightly smoky flavor.
marouch was a totally satisfying dining experience. the service was friendly and efficient, the ambiance was warm and welcoming, and the food was top notch yet reasonably priced. if, no,
when
you go, do not miss the unbelievable babaganough and the mouhamara.
marouch
4905 santa monica blvd. (nr edgemont)
los angeles
323 662 9325
citysearch review