maggie mudd
maggie mudd's is a little ice cream shop on cortland avenue not too far from wildside west, one of my favorite bars-with-a-killer-backyard/garden/patio that you can drink in during one of those rare, sultry san francisco nights. located just past the majority of restaurants on the strip, you can't miss it... it is marked by a gigantic, six foot tall ice cream cone standing sentinal outside. and you shouldn't miss this place, especially if you are an ice-cream jonesing vegan. or are vegan friendly. or just vegan curious. for those falling into none of the preceeding catagories, they do indeed carry the real, six cylindar, twelve udder thing. and just for the record, i've never met a vegan ice cream i've liked. that is until now.
pictured below is the mexican chocolate (in front) and the mudslide (rear).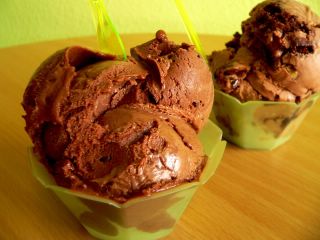 both are vegan and i swear to god you abosolutely can't tell. almost. sweet and creamy and delicious. and in addition to "dairy free" ice creams, they crank out a largish selection of regular ice creams, gelatos, low fat/no sugar added ice creams, sherberts, ice cream cakes, shakes, frozen yogurt, waffle cones (also vegan!), and the list goes on and on and on.
the vegan selections use one of two different bases: soy or coconut milk. the mexican chocolate flavor is soy-based with a good strong chocolate flavor with just enough cinnamon to come through without being bitter or overpowering. the ice cream itself if creamy creamy creamy, though i could tell, just slightly, that it wasn't the real deal. it was just a tad lighter than dairy ice cream, which is not a bad thing. the mudslide, on the other hand, is better than regular old lactose based scoops. it uses a coconut base and if you like coconut this is the way to go. as we all know, coconut tastes really good and creamy and fatty because it's really bad for you. this is why it tastes so good. the mudslide has a thicky hearty coconut tinged chocolate based and is stuffed full of brownie bits, nuts (i think), gooey streaks of chocolate, chunks of chocolate. wow. it's insane.
for more information they have a
website
with a menu and scrumptious looking pictures.
maggie mudd
903 cortland avenue, san francisco
415 641 5291