damo sushi, pleasant hill
finding good food in san francisco is a no-brainer. even what passes for mediocre eats here would be considered very good in other places, both near and far. we are spoilt indeed and every time i head out to the extreme east bay to visit my moms (think past pittsburg and you're on the right track) i'm painfully reminded of this. it's all the more difficult since she really prefers to eat japanese food, being japanese and all. i cannot tell you how many terrible "japanese" (i use the term very loosely) meals i've had in the five years she's lived out there, everything from treacley sweet teriyaki skewers that instantly burned cavities through the enamel of my teeth, to restaurants that served slices of (oh the horror!) pineapple in the green salad, to bento boxes filled with limp, flaccid tempura and low-grade mushy rice. which is why i'm writing this post about a very passable japanese restaurant in pleasant hill called damo sushi.
this little restaurant is located in a mini strip mall on contra costa boulevard in pleasant hill, just a few blocks past the sun valley mall, nestled amongst a vietnamese place, a mexican place and a pizzeria. the main draw of this complex is a pretty rockin' asian grocery store that carries a very interesting mix of thai, chinese, japanese, indonesian, etc. food stuffs. it's probably the cleanest chinese market i've ever been in, with no scary fish smells, either fresh or dried.
but back to damo sushi. the interior is a large, square, fairly bright space with a little fountain in the center of the room, just as you walk in the front door. at the rear is a sushi counter. the decor is functional and the ambiance is pleasant if not fancy. there is a sort of eighties feel to the place, which seems appropriate given the space.
once seated we were served complementary edamame and a pot of hot green tea. i just love it when they give you your own pot of tea since i can drink gallons of the stuff and hate flag down the wait person every time i finish a cup. we ordered tempura udon and the sushi combination dinner.
the tempura udon (7.95) was preceded by a green salad that was dressed with a creamy japanese salad dressing. the salad was passable with a pleasant dressing, fresh lettuce leaves and sweet cherry tomatoes. the tempura udon was beautifully presented with the noodles and broth served in a gigantic bowl while the tempura was fanned out separately on a bamboo boat. the broth was perfect: light, flavorful and steaming hot.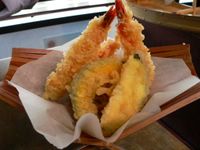 the tempura was also very good. the batter was very crispy and firm and did not get soggy by the end of the meal. if there is anything i can't stand it's soggy tempura. the only misstep in this wonderful dish was the udon noodles. they were a little overcooked and therefore a bit mushy.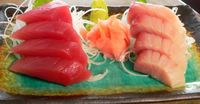 the sushi combination dinner (14.95) was a lot of food. served with miso soup, rice, salad, and tsukemono, it came with a choice of one of the following: 5 pieces of nigiri OR 6 pieces of california roll OR chef's choice sashimi AND a choice of one of the following: chicken teriyaki OR beef teriyaki OR salmon teriyaki OR chicken katsu OR saba shioyaki OR tempura OR ton katsu. we selected the chef's choice of sashimi and the tempura. the chef's choice that day was tuna and yellowtail, both of which were quite fresh, beautifully presented and generously portioned. as mentioned before, the batter for the tempura was wonderful but the sweet potato was sliced too thickly and therefore not thoroughly cooked. the miso soup was made from a light miso and therefore was not overly salty. the service was adequate although we did have a little trouble flagging down the waitress to pay our bill.
i was pleasantly surprised by damo sushi. if you're in the area and want a decent japanese meal, this is the place to go.
damo sushi
508 contra costa blvd
pleasant hill, ca
925 288 0007
http://www.damosushi.com