pho fresco, los angeles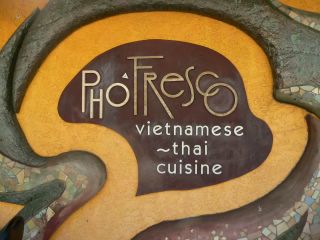 all of my friends (yes folks, all TWO of 'em) have moved to los angeles. why? they all, without exception (meaning both of 'em) admit that although life in la can be hellish (smog, traffic, bad food, excessive plastic surgery) it also can be cheaper. and it's definitly warmer. plus, they all drag out that old excuse of "it was time for a change". so change they did and here i am all alone in my kingdom of fog and good food. and sometimes i take a trek down to hell-a. and i eat. and with rising gas prices, i try to eat cheap.
pho fresco is a little neighborhood vietnamese/thai place in tragically la trendy los feliz. it wins my heart because the entire decor, including the signage and name is recycled from it's predecessor, an italian joint called al fresco. tacky, no? hell yes!
the menu is divided into two sections: vietnamese and thai. i've only sampled the vietnamese dishes, being a big fan of lite, non-greazzzy fare. it's pretty good. and it's pretty durn cheap too.
here is the number fifteen, the bun chay dac biet - vegetarian. tender rice noodles piled atop a bed of shredded lettuce greens and bean sprouts and topped with carrot and daikon slivers, shitake mushrooms, tofu, and eight(!) fried veggie spring roll pieces! it comes with rice vinegar/soy dressing on the side to be added to your liking. all this for only $5.95. it is huge. it is a meal in itself.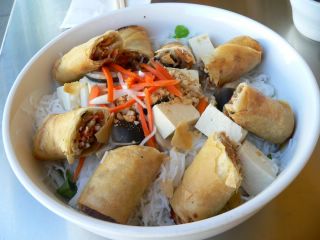 on previous visits i've had the number seven, pho chay - vegetarian ($5.95). a gigantic bowl of rice noodles with tofu, mushrooms, carrots, and the usual vietnamese accompaniments (bean sprouts, lime, basil, etc.). with a light yet savory broth it's a decent rendition of your vietnamese vegetarian pho.
although the inside is a little reminiscent of an actual southeast asian restaurant (like someone's garage), the food is reliably decent, cheap, there's never a wait, you can bring your own booze, and the service has always been friendly. if you live in the neighborhood or happen to be in the vicinity and don't want to deal with fancy/overpriced los feliz fare, this is a good bet.
pho fresco
1769 hillhurst avenue
los angeles
323 906 0599