mangetsu (formerly koi sushi) brentwood
mangetsu, formerly koi sushi is tucked away into a newish strip mall on sand creek road in brentwood. the east bay brentwood of gigantic, anonymous housing developments that erupt from the parched earth like zits on a burger-eating, milkshake-gulping, playstation-fiddling teenager.
so koi, i mean mangetsu (which means full moon), is a reasonably pleasant space, much what you might expect from a strip mall. functional, clean, basic. the service is very friendly and well-meaning if not particularly well-polished, but then again they only recently opened and it isn't really that sort of a place anyway.
we wandered in around 1:30 on a monday afternoon. there were a few tables of diners and one fellow at the sushi bar. my moms ordered the sushi don ($7.50), which is basically sushi rice with slabs of sashimi on top.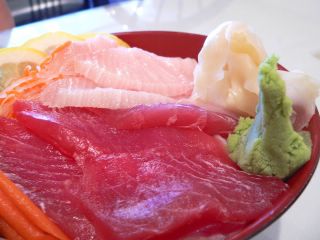 although the menu specified that only one type of fish could be ordered (both in japanese and english), our server assured us that we could choose more than one. moms chose the hamachi and maguro. with both meals a very nice little green salad of iceberg lettuce and very thinly grated daikon and carrot bathed in a creamy miso dressing was served, followed by a mild bowl of miso soup. the verdict on the fish? "pretty good", which is what she always says, except for when she says "not so good". who knows? it looked good. the portion was about right, not too big, not too small.
because it was probably about 100 degrees that day i didn't order my usual udon or soba, but instead chose the yasai (vegetable) sushi lunch ($8.65), and was plenty glad i did. usually the veggie sushi combos are just so-so with the usual seaweed wrapped suspects blandly lurking on a plate. but just look at this.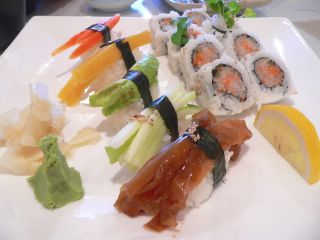 what a feast for the eyes! seatbelted onto their little pats of seasoned rice were: pickled carrot, sweet pickled radish, creamy avocado, cool refreshing cucumber slices and a highly seasoned sweet kanpyo.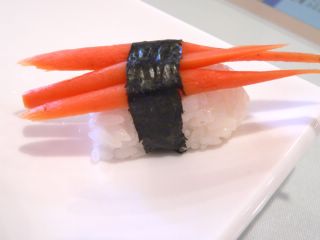 and the maki was something i've never seen before: thinly sliced strings of daikon and carrot (unseasoned) with spicy radish sprouts and the seaweed on the inside. it was, to be truthful, a little bland with just a hint of spicyness from the sprouts, but i give the chef full points for creativity. it perked up quite a bit once i drizzled a little of the lemon into the center. i assumed that was what it was for...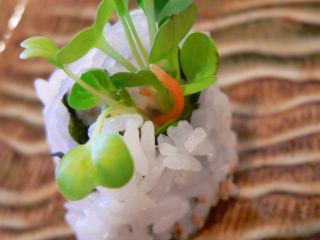 dinners prices range from $9.25 for a saba shioyaki, to $16.25 for a 2 item combination, to $19.50 for the sushi or sashimi combination dinner. lunches run from $7.65 to $13.00.
the verdict? "better than miraku" moms says.
mangetsu
50 sand creek road
brentwood, ca 94513
925 513 2268
mon - fri 11:00 - 2:30
mon - thurs 5:00 - 9:30
fri-sat 5:00 - 10:00