osha thai noodle house, valencia street
in all the years that i've lived in the mission i've never, not once, stepped foot inside osha thai noodle house on valencia street. why? well, the prices seemed just a tad high and i'm just not a huge fan of thai food, what will all that fish sauce and seafood floating around. plus, it's always looked so damn crowded every time i've walked by. i don't like crowds, it makes me think of lemmings. lemmings and good food do not usually mix. or do they?
but now that i'm older and more inclined to spend more than ten dollars on a meal, i decided to give this little thai restaurant a shot, mostly due to the fact that a friend of mine and a very picky eater swears by the place.
my first visit was during the lunch hour, around 1 pm on a weekday and although there were a few diners scattered around, the place was anything but crowded. i was pleased.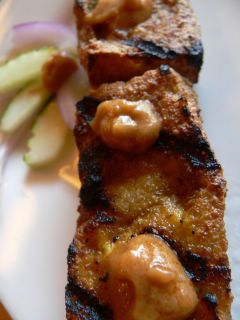 to start we ordered the tofu satay with peanut sauce ($ 5.50). it was absolutely delicious. the fried and grilled tofu slightly seasoned with curry was smoky and chewy and crispy and perfect with the thick peanut sauce and cucumber-onion relish that accompanied it. it was just so darn meaty. it was a great start.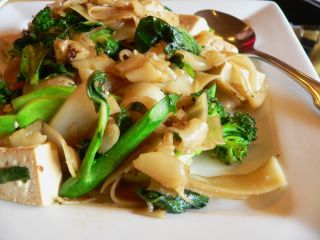 and then we waited. and waited. and waited. just as i signalled to the waiter to see if perhaps our order had been forgotten our main dishes arrived. first came the pad see you ($ 7.95), a pan fried noodle dish with tofu, garlic, egg (omitted at our request) and chinese broccoli in a black bean sauce. it tasted like they'd forgotten the sauce or something. it was bland. it wasn't bad and tasted much better once i'd added some condiments. on the positive side, however, it wasn't greasy like most thai fried noodle dishes.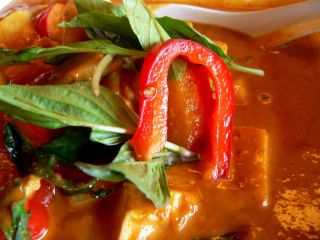 and then came the pumpkin curry with tofu ($7.95). kabocha squash, bell pepper, bamboo shoots, sweet basil in a red curry sauce. wow! we requested medium spicy and we got it medium spicy, meaning that it left a heat on the tongue without searing it. the curry was sweet and creamy and rich and spicy all at the same time. it tasted like it had a coconut milk base but the coconut was not particularly assertive. it really hit the perfect balance.
that was the first visit. the second visit was during an early dinner. we again ordered the tofu satay and pumpkin curry. both dishes were as good as the first time, although much more beautifully presented. on this visit, my dining companion ordered the salmon and prawn satay with peanut sauce ($6.95), which she really liked. we then shared the fresh mango salad ($7.95) with the seafood on the side. this dish did not impress. it was too fishy from the fish sauce, had too little mango (extruded in distressing worm like shapes) and the dressing was just not very assertive. my first instinct was to go with the papaya salad, which i've heard good things about. maybe next time. we also shared an order of the special of the night - a thai eggplant dish with basil, garlic, black mushrooms over tofu. again, this dish was just okay. although the flavors were good, it lacked a richness - it seemed almost watery. the eggplant was cooked very nicely, a little firm to the bite. i think the dish would have benefitted immensely from the addition of the filet of sole, which was it's intended base. the other star of the evening was the coconut rice. if you like coconut, you have to order this very coconut-ty and rich-but-not-too-over-the-top rice to accompany your meal.
for drinks we had thai ice tea (very very sweet-too sweet for me) and a rockin' lychee sake soju cocktail (very very tasty-i had two). although not crowded, service again was a little off, with a very long lag time between the appetizers and the main courses.
overall, the food is good with some real standouts. i think the key is to order carefully, culling recommendations before you go and making sure to request some condiments on the side, just in case. the ambiance is nice - a fairly spacious, light filled, modern dining room, it's "hip" without being annoying. portions are fair to large, they were really nice about leaving out fish sauce here and there, and hey, the place is open till midnight.
osha thai noodle house
819 valencia street
san francisco, ca
415 826 7738